Chiang Mai, Thailand
I'm currently in my room at the Children's Shelter Foundation nestled in the mountains of Northern Thailand. My head is full of ideas on how we can make our next trip with students here even more meaningful and what we can do to extend our learning and service for this amazing foundation year-round. My heart is full of love for this amazing place, the views, the skies full of stars, the smells and tastes of the amazing food all raised on the organic farm here, and most of all, for these children.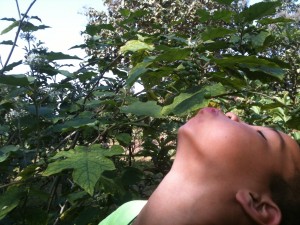 The children at this shelter are abandoned by their parents who are typically members of hill tribe minorities in Thailand.  They range in age from very young to teens and many are deaf.  All the children at the shelter learn sign language since many speak a tribal dialect rather than Thai or English. 

ASL is their common language.
The most striking thing about these kids is their sincere joy and affection as they allowed us in to their family farm, proudly showing us how to live off the land as we repaired their dams, helped them mix cow dung and straw into compost, played in their pond and on their amazing rope swing, and cooked fantastic meals with ingredients from the farm.
The foundation goes through great lengths to keep these kids connected to their traditional hill-tribe culture. These kids know the satisfaction that comes from completing physically demanding work. They are learning sustainable farming techniques that they can take back to their home villages if they choose to go back eventually. They're also learning English, Thai, and how to interact with and teach all kinds of different people like the kids from our school and others who visit them. These kids also know how to have fun.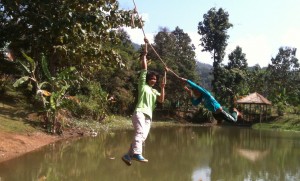 I'm left wondering who knows the more important lessons in living, loving, and being happy.